Small, Efficient,
& Furniture Obsessed
Our Story
Hunt & Noyer was formed by Kyle Huntoon in early 2013 to create thoughtfully designed furniture handcrafted from locally sourced high quality hardwoods.
Our small business was founded on tradition. We strongly believe in the importance of passing things down. Our namesake is an homage to Kyle's parents' surnames, DesNoyer and Huntoon. Midwestern families made up of generations of hardworking craftsman that deserve our respect and admiration.
Hunt & Noyer has since grown into a small dedicated team, creating a unique line of modern furnishings with handcrafted details for residential and commercial spaces. Our attention to detail, use of honest natural materials, and focus on thoughtful design that is both beautiful and highly functional sets us apart from the mass market furniture of today.
We believe that good design and quality materials never go out of style. We love designing and creating in metro Detroit with its rich history of furniture design as the epicenter of American Modernism, and it's legacy of true American manufacturing craftsmanship.
Our Dedicated team of Craftsmen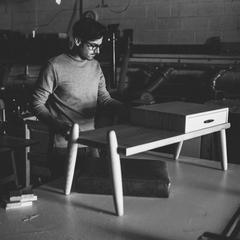 Kyle Huntoon
Founder, Lead Designer
Driven by his family heritage and his love of architecture and design, Kyle left a career in civil engineering to follow a dream. He's happiest when covered in sawdust or trout fishing in Northern Michigan.
Lucas Zdenek
Furniture Maker
Lucas joined Hunt & Noyer in early 2019. A hand tool purist at heart, we have since brought him over to the dark side of power tools. His drive to learn is contagious, and his knowledge of the obscure is pretty fun too.